Forms
Better there is no title to the book
Painting is a personal statement of memory states. Signs of memory, where colour matters. The colour is hidden within, like in the process of extracting images from the memory, the colour is underneath.
Printmaking pieces consist in remembering forms and finding them in wood. Wood gets in contact with paper, on which print appears.
Writing and designing a book was an attempt to systematise my own language.
Emerging marks and colours – they are forms. Forms take shapes, shapes carry meanings. Meanings build problems. Problems cause events.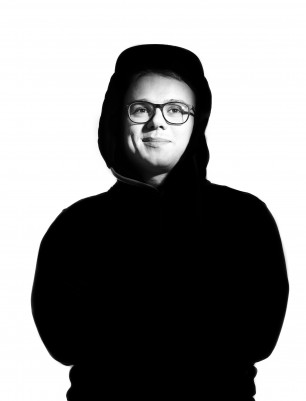 Does sign keep having power and potential in contemporary art? Maciek Januszewski's series of prints Forms explicitly testifies in favour of sign. They contain energy of message, visible record of individual experience, history, story, wit, primal power, and finally, visual beauty. There is no undue coquetry in these pieces. There is combination of black and white, essential for printmaking. The prints are accompanied by blocks, carefully cut in plywood. Transition from illustrative, narrative signs to abstract, monumental forms, is the culmination and the most interesting element of the series. Maciek Januszewski's degree piece was awarded the Rector's award.
Professor Andrzej Węcławski
Helix goes left • to the middle • to the start • we discover the already experienced points • and then back • to the right • toward the exit • with a baggage of thoughts, reflections, answers
Maciej Januszewski is an example of a student who consciously chooses those curricular values he needs to create his own world. He is aware of both his strong points and shortcomings, he knows how to make the reality fit his needs. Such a course of studies requires also partner involvement of the teacher.
This study concept resulted in a degree piece which is a deliberate combination of interdisciplinary actions, with conventions and technology subordinate to artistic expression. A subjective expression, however containing a message for the audience. It is a collection of thoughts, in a way thinking about thinking. With a great sense of philosophical humour. Here printmaking, painting, graphic design form an indivisible whole. It is a work of very high artistic value.
Professor Lech Majewski
B. 1991; studies at the Faculty of Graphic Arts of the Academy of Fine Arts in Warsaw (2009–2014). Works in publishing graphic design, fine art printmaking, painting, drawing, photography. Solo exhibitions: Belichtungszeit, Friedrich-Ebert-Stiftung, Munich, 2009; Turbo Gallery, Warsaw: IN_OUT (with Dominik Robak), 2011 and Reservation (with Mateusz Machalski), 2012; Bilddeutung, Kunstraum Gewerbepark-Süd, Hilden, 2012. Implemented projects for Poster Museum in Wilanów, Friedrich-Ebert-Stiftung in Munich, Polish Film Institute in Warsaw, among others. Prizes and awards in graphic, design and photography competitions.