The series titled Intuitions is an attempt to present in a visual way an observation on the modern world. The concept, the original idea of this piece originated in my head while in New York City.
While sightseeing, I felt very clearly a very intense intertwining of organic matter (our bodies, minds, emotions, trees, air) with our products (buildings, streets, cars). Walking the streets of Manhattan, I could not help but wonder, how can I show this modern contrast in a miniature project fitting in the walls of a small studio or gallery. How can I extract this incredible feeling, and translate it into a picture that gives the viewer the flavour of this energy.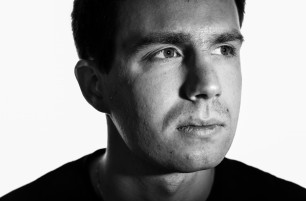 Michał Kochański's degree piece titled Intuitions is a harmonious blend of form and idea. The author has created a very coherent and evocative series, with a novel form and broad space for interpretation. His interest was the search for relationships between the organic, natural forms, and products of our civilisation. He prepared a series of multi-layered prints on safety nets and paper. After being put together, prints reveal their ultimate sign form, intended by the author. Image structure changes with the change of viewing spot. It forces to follow the image, tracking changes occurring on its surface. This gave the pictures a deal of mystery and ambiguity.
Exploration that led to the final shape was a long process of coping with adversity, a number of attempts. Michał Kochański consistently led to implementation of his vision. In my view Michał Kochański's series Intuitions is one of the most interesting degree projects completed in the Studio No. 6 in recent years, rightly honoured with Rector's award.
Professor Andrzej Węcławski
B. 1989; studied at the Faculty of Graphic Arts of the Academy of Fine Arts in Warsaw in the years 2009–2014 and at Staatliche Akademie der Bildenden Künste in Stuttgart in 2012 (under the Erasmus programme). He works in graphic design, fine art printmaking, painting and drawing. Participant of many solo and group exhibitions. He lives and works in Warsaw.