My degree piece is an interpretation of Midsummer Night's Dream by William Shakespeare, which has taken into account everything that shaped ethical and aesthetic consciousness of our time. An interpretation inscribed into the space of newly built Shakespeare Theatre in Gdańsk, and thus confronting the concept of theatre of the era contemporary to the author. I wanted to make my stage design changeable before the eyes of the audience, so that smooth narration was possible. My design has been inspired by aesthetics of the Elizabethan era, however expressed using modern materials and solutions specific to contemporary aesthetics. Important aspect of this project was to achieve verbal and semantic effect through application of variety of textures, drawing and symbolic use of colour. My idea was to create an aesthetic identity and uniformity of costumes and theatrical space, which here serve mainly as a background for details of costumes, props and rich textures.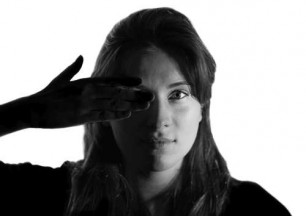 Degree piece prepared at an art school of university status must go beyond a test of professional skills. It needs to address a research problem.
Anna Adamek addressed the issue of interplay of aesthetics of the turn of the seventeenth century represented by William Shakespeare's text and the venue of the Shakespeare Theatre in Gdańsk, and contemporary aesthetic sensitivity, technology and materials. This combination resulted in revival of full semantic potential of Shakespeare's play. All artistic decisions taken over the design work were characterised by artistic consciousness of the author and moderation of applied solutions.
Anna Adamek has been a very talented and hardworking student. She used to set goals high in all tasks. She has been characterised by curiosity with world, art and theatre. She has the ability to find and formulate artistic problems. Her analytical work is characterised by great insight. Consciously and in a balanced way she uses means of artistic expression. Great with people.
Professor Marcin Jarnuszkiewicz
B. 1988; studies at the Faculty of Stage Design of the Academy of Fine Arts in Warsaw (2008–2014). Stage, set and costume designer, active also in the field of drawing. Collaborated with the Department of Directing of the Theatre Academy in Warsaw and the Łódź Film School. Author of stage design and costumes for productions The Rape of the Sabine Women, Musical Theatre, Lublin (2013) and Note… The Audience, Och-Teatr, Warsaw (2014) and project Costume of the City presented at the Second Festival of New Stage Design in Katowice (2013). Assistant designer in productions Phantom, Musical Theatre in Lublin (2012) and Operetta, National Theatre in Budapest (2014).