The collection has been inspired by suprematism, and more specifically – shapes and systems found in works of suprematists. Free use of simple forms and colours by artists in order to create more or less visually complex paintings became foundation of the collection, every silhouette of which is a separate "collage" composed of combined shapes.
All forms of garments, fabrics and jewellery resulted from experiments with square, circle, cross and line – by juxtaposition, multiplication or overlapping.
All fabrics were made combining multiple materials, yielding a number of unique patterns, designed and hand-made specifically for the collection.
The jewellery collection was presented at an international exhibition ENCOUNTERS 2 in Budapest in May 2014.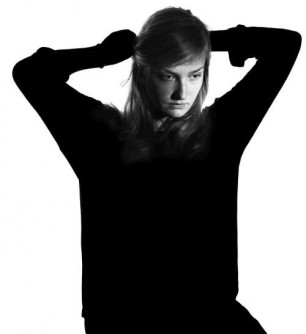 The collection has emerged from the study of three relationships: the relationship between art and geometry, the relationship between fashion and geometry, and the relationship between art and fashion. The project first was reduced to basic geometric concepts, such as point, line, line segment, as well as geometric shapes: square, circle, rectangle. Geometric concepts and shapes form both the foundation of the garment, or its construction, and its purely aesthetic, extra-functional additions – jewellery adornments. So here we face reduction of fashion to a sartorial atom, correspondent to Malevich's painting atom. And what follows, is intensive multiplication, which makes the simplest become a complex, rich, but precisely calculated ornamentation.
Janusz Noniewicz
Joanna's clean-cut and structural collection perfectly balances a fine edge of conceptualism and wearability, and her contemporary layering, fabric treatment and laser cut accessories both enhance and strengthen an already formidable collection. She makes a very bold statement and, only in her BA, she has already developed a very strong and personal signature. Joanna is constantly pushing boundaries; always questioning herself and constantly pushing towards a final goal, which is very evident in her work.
Damien Ravn
Joanna demonstrated with her final BA collection her ability to develop her own personal philosophy of design and a particular way of working. In her work she managed to push boundaries of textile design and transform her initial research into new ideas, yielding fresh concept that drives her silhouettes and textile form forward.
Martina Spetlova
B. 1990; graduate of the Chair of Fashion at the Academy of Fine Arts in Warsaw and London College of Fashion; MA Fashion student at the Central Saint Martins in London. Fashion and textile designer. She has designed textiles for brands in Poland and Great Britain. Scholarship from the Rector of the Academy of Fine Arts in Warsaw for artistic merit, 2013/2014. Winner of the main prize for fashion design at the VII Art & Fashion Festival by Grażyna Kulczyk, 2013. Semi-finalist of the MUUSE x Vogue Talents Young Vision Award Womenswear 2014. Participant of the Nous voici, les voila exhibition in Paris, 2013.