MAG (currently Instrumentarium) is a lab-station for creation of music and visual effects. The station has been equipped with a system of innovative instruments and controllers used by the artist operating it to compose an audiovisual performance or perform one composed in advance.
Control object do not resemble well-known instruments and it is no coincidence: removal of commonly recognised objects from the performance space allows to create a convincing stage reality, able to absorb attention of the audience. One of my basic assumptions while designing MAG was ritualisation of interaction through creation of tools that would force the user to act in a manner inevitably resembling some mysterious and fascinating ceremony. Thus a ritual is brought to life as an envisaged result of operating in an environment where man and machine work together; such an approach to user interface came from the need to highlight processes that lay behind changes in audio and visual layer. Interaction with the station involves attractive logic, clear for both the audience and performer. This dual clarity has been reflected in type of messages and clear way of addressing them.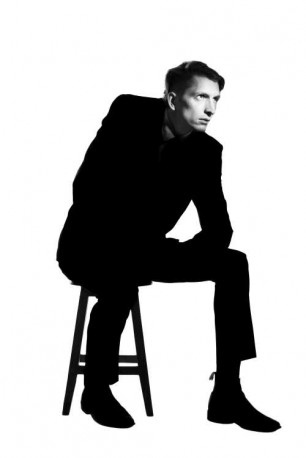 Przemek Ostaszewski is a rare case of a designer who can combine sound design work with creation going beyond commonly understood design, annexing the space reserved for art. And so is his degree piece, or a lab-station for creating music and visual effects at the same time. The person operating it does an audiovisual performance using a system of innovative instruments and controllers the station has been equipped with.
This set of unusual instruments enables building of relationships between body movement and sound. The person on stage seems to merge with the sound he produces. In other words, he becomes a dancer, performer and musician in one person.
Visual variety of particular elements forming the degree piece and specificity of interaction between the performer and machine-instrument create a kind of theatricalisation of the event (concert/performance), which goes beyond well-known limits of cultural "scripts" for genres and creates a peculiar atmosphere typical of ritual and ceremony, even though contemporary and embedded in today's technological culture.
Dr. hab. Jarosław Kozakiewicz, Associate Professor
B. 1985; studied at the Faculty of Design of the Academy of Fine Arts in Warsaw (2005–2014). Shortlisted for Wanda Telakowska Young Design scholarship, Institute of Industrial Design, 2011. Art scholarship Young Artists from the President of the City of Białystok, 2014. Works in product and graphic design, as well as music; author of audiovisual projects, installations and stage designs. Together with Małgorzata Żółkiewska co-founded a multidisciplinary design studio Multiversal. His works have been presented in numerous exhibitions and shows, in Białystok, London, Paris and Berlin, among others.