The primary objective of the revitalisation project for the now defunct Forum hotel was documenting a building at risk of demolition. It was important for me to prove that despite controversy raised by its architecture, Forum has a great potential. Thanks to the project I managed to show that the hotel can be adapted to current standards and create an original, interesting interior that would certainly attract tourists from all over the world, as in the years of its glory.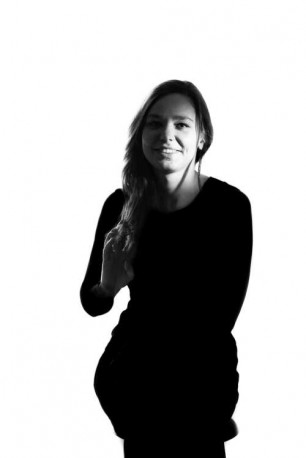 Izabela Tarka's degree piece has resulted from her research interest in modernist architecture. Hated by lovers of historic Kraków and admired by proponents of modern architecture, Forum Hotel has become the subject of a design project. The degree candidate managed to reach the family of the late architect Janusz Ingarden, and after inspecting preserved architectural designs, she created her own vision of interiors.
Iza's design work was preceded by a thorough analysis of the existing space and current standards, requirements and regulations regarding hotel buildings. Then she put to order the utility zone – the entrance, reception, lobby area, office space, café, and restaurant, as well as the area around the hotel. She created her own vision of the hotel interior in compliance with existing architecture, but giving it a whole new look. Its modern nature was softened with fabrics, colour or even original development of structural form used in the ceiling and on walls of the reception.
The whole is coherent, and architecture of the modernised facility and its interior, thanks to simplicity, moderation and materials used, has revealed beauty and unique charm of the hotel. The phantom hotel was given a new life.
Dr. Beata Dobryjanowicz
B. 1990; studied at the Faculty of Interior Design of the Academy of Fine Arts in Warsaw in the years 2009–2014. Rector's scholarship for best students, 2010–2014. She works in interior design and sculpture. Works at Kreativa Interior Designers, collaborates with the Masław Association of Mazovia Lovers on a project documenting and presenting Warsaw buildings and structures of architectural value demolished or transformed after 1989.