I have developed my unique visual language and I use it to communicate with the recipient, trying to get to the layer of freedom in his consciousness. I use the medium of painting to bring attention and depict the system of authority which surrounds and defines us, and using a number of control mechanisms, it makes us subjected to constant surveillance.
In my work I direct particular attention to the body – the most important aim of actions of authority, that paralyse the individual through a wish to be normal, to fulfil objectifying criteria, and desire for eligibility to the majority. Desire to escape from stigmatising inclusion to the sick, deprived of social rights, individuals with bodies that do not meet psycho-physical standards defined by clinical and hospital system, that throughout our lives participates in the process of control over our bodies. Therefore my painting substrate is not accidental – it is grounded hospital sheets, which often are a natural record of this clinical supervision process.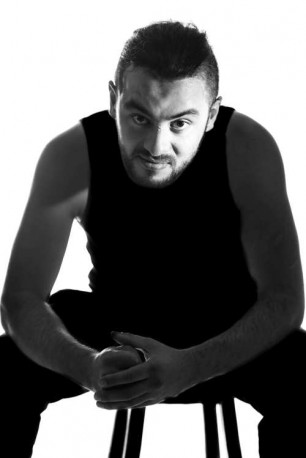 If you are given life for the second time, if you learn yourself anew, once again, a reflection appears automatically. Such a reflection is given only to those who escaped an incurable disease, total oblivion, memory loss, death. The surrounding world is not so carefree then. Our ability to see friends, family, love is sharpened. We value every day, hour, breath and try to use everything up to the limit, beyond which there is nothing. We clearly see ourselves, and the more so the people around us, as individual is subjected to continuous control through a number of social control mechanisms. Then we can see how sexuality is used from the earliest age to construct an organised society, and others do not notice it. Pre-school, school, higher education, work, politics have always used this mechanism with treacherous premeditation. Ensnared in the veil of family love, student, citizen responsibilities, patriotism, we are not aware how deeply are we manipulated and controlled. Stained in sheets of everyday life, we are not aware how dirty are the marks we leave behind, on diapers, underwear, suits, uniforms we were dressed in. Painting of Sebastian Krok is a silent cry, making us aware of this bitter reality. In the Western Europe there are few contemporary artists who care about the fate of others. So let's look at these paintings, as they relate also to each of us.
Professor Leon Tarasewicz
B. 1985; studied at the Faculty of Media Art of the Academy of Fine Arts in Warsaw in the years 2009–2014. Scholarship from the Minister of Education, 2012–2013. Fields of artistic activity: painting, actions in space. Solo exhibitions: Flat on Animals and Violence, Austrian Cultural Forum, Warsaw, 2013; La petite mort, Foundation for Promotion of Contemporary Art Gallery, Warsaw, 2013. Awarded in Professor Józef Szajna Competition, 2010. Works as Professor Leon Tarasewicz's assistant at the Studio of Painting Space at the Faculty of Media Art of the Academy in Warsaw.